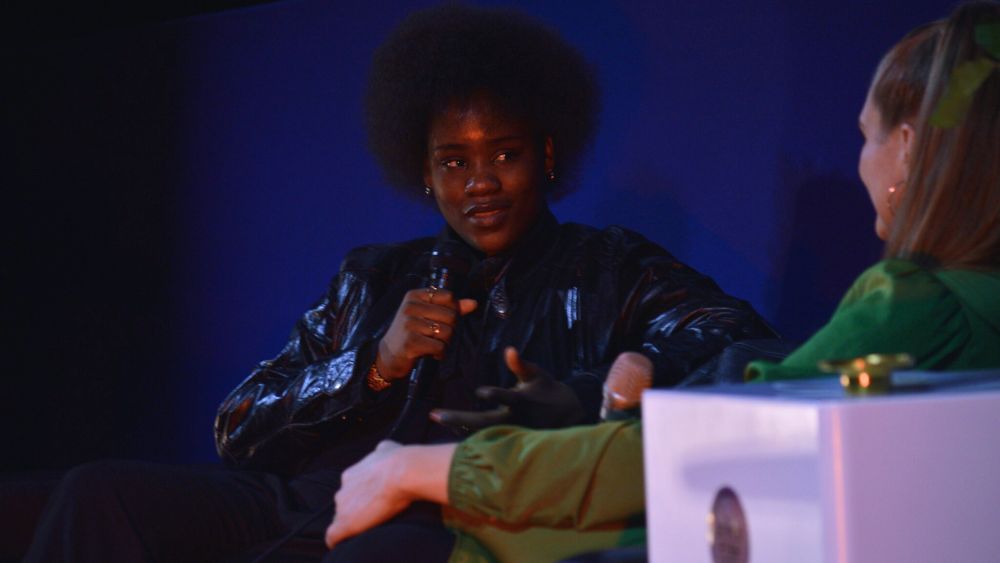 "I don't really like the word 'acting'" Joely Mbundu – In interview
She is open to every opportunity and only getting started, Joely Mbundu is born in France and is of
African descent. She stars as the lead in the Belgian brothers Jean-Pierre Dardenne and Luc Dardenne's
newest feature, Tori and Lokita. For the role of Lokita, a young immigrant from Africa desperately trying to
get accepted for citizenship in Belgium, Joely sought inspiration from stories she recognizes from the
community around her. She did not have to search far and wide to do research as these stories have
always surrounded her growing up.
Three years passed from when Joely took a role in Femi Kidjo's short film to when she got casted in Tori
and Lokita. Femi, a friend of a friend, was in her first year of film school when Joely approached her and
offered any help she could need for a pressing school project. Femi needed an actress and Joely
accepted, of course. Joely reminisces and feels that she took her first steps in exploring cinema and the
layers of the actors' job on Femi's project. They have stayed in contact ever since. During the next three
years Joely followed her ambition in getting ahead in the acting world, but without telling anyone about it,
not even her family. She worked hard on getting in contact with casting directors and agencies all over the
world, but never really got a response, except for one "No". "I didn't really care that I didn't get an answer,
for me it was more; sending a message out into the universe". After those three years of hustling, Femi
alerted Joely to a big audition. After three phases of trying out for the role, Joely got her big break on Tori
and Lokita. Her family only really found out about her choice of career when she had already been hired
by the Dardenne brothers.
Joely sings in the film and does so beautifully. She didn't study singing with a coach until after filming had
been completed. She has however been singing constantly ever since she can remember, and used to
get in trouble in school from not being able to keep the music in: "And the teachers were always like;
Joely stop singing during class! […] and they weren't even always songs that existed, it was just music
that needed to come out."
She heard Pablo Schils, who plays Tori, singing in the rehearsal auditorium, then met him for the first
time. His talent impressed her immediately. "I was even more scared then because that boy has real
talent […] The chemistry on screen between us I think came naturally and then the rest was more having
fun together" Working with Pablo was a joy for Joely. They approach acting in a similar way and found it
easy to play off each other. To impress Pablo in the beginning of their working relationship, Joely had her
twin brother come to set and play football with Pablo as the guys are both avid sportsmen and big fans of
football. Joely believed that if Pablo found her brother "cool", that he would in turn think the same of her.
This master plan worked.
The Tori and Lokita story is based on a reality that Joely and her family are all too familiar with from the
community around them. "I didn't really need to do a lot of research, because I already knew. It was more
about finding who Lokita really is as a person." The script was very well written according to Joely, and
she had no suggestions for changes to the story.

Joely talks about the trust that the Dardenne brothers formed with the actors. They allowed her to express
herself in the role of Lokita without too much interference. She talks warmly about the safe space that
they created for her on set to be able to concentrate completely. "I trust them and their vision, and they
trust me. You always feel a part of the conversation with them." The brothers were more than willing to
teach her effective techniques, and recommend films and other material to use for preparation. The
Dardennes' simple and open direction, which Joely felt worked very well for her personally. "They gave us
space to understand the direction by ourselves." The Dardenne brothers favor the naturalistic acting style
over something more stylized and this characterizes all of their films.
Joely feels that her own kind of method acting works best for her as she has not studied acting officially. "I
don't really like the word 'acting', because to me it sounds too much like pretending. I'm more into being. "
Joely describes the filming period where she had a week on set, and a week off set. While she was
working everyone was to call her Joely, but when she was off set, she would only answer to the name
Lokita. "And in the mirror I also saw 'Lokita' […] I have heard about it (method acting), but not really
studied it. I think I may have done it unconsciously. […] I also used my stress on set, as this is my first big
role, and translated it into Lokita's feelings." As Joely talks about, and we are all familiar with, stress can
show itself in various ways. A stressed person may start crying, or even laughing, depending on the
situation. It was really studying these variations that gave Joely her depth for the role of Lokita.

Her biggest challenge was acting out an anxiety attack. Doing that in front of other people on the set,
something that most people experience in private, was intimidating. She was worried that she might look
weird or unconvincing during the scene if she were in her head too much about it. The scene with the
attack is a one shot, and was rehearsed numerous times on the day, but not much before that. It took two
days of filming to get that one shot scene just right.

Meeting Cate Blanchett at the Telluride film festival had a profound impact on Joely. She describes the
elegance and grace that radiates from the actress. This is a quality that she wishes to possess. Joely
does not like to put the people she admires on too high of a pedestal as she feels that idolizing someone
too much may skew the reality of who they actually are.
"I try to admire people for their work, for something impressive that I've seen from them." She generally
takes inspiration from people and stories around her, family and friends.

On describing the actor's job to others she talks about how it can let you be free to feel and create. "It's
the ability to sit at a table with people you don't know, and the next day you consider them to be family
and you tell a story for weeks, months or maybe sometimes years. You always end a project with a huge
luggage of information and memories."
The actor's job is really about "being". Where else would you be able to take on the role of an astronaut if
you weren't actually working for NASA. Incidentally when asked what profession she would have chosen
if an acting career weren't possible, she mentions working for NASA, along with being a singer and
studying literature.

Joely is not looking for any one kind of role to take on, as she wants to try and seek out what she likes
best. "It's more about the story that I'm going to tell and with who, and who the story is for. […] For me it's
more a question of 'what does the future hold for me?', because I don't know yet what I'll get a chance to
be part of." The magical quality of a film set is something that
"Coming on set as an actor is like breathing new air, seeing everyone working in front and behind the
camera gives so much energy, it is difficult to explain." The excitement of seeing the finished product is
something that she just can't get enough of. Joely feels she is most alive when she is on set, and would
like to work on film constantly. It's going to be really exciting to see what adventures the future holds for
Joely Mbundu. We can't wait to see more!
Höfundur: Katla Gunnlaugsdóttir